AO40TLMVIEW - decoder and viewer for AO-40 telemetry
AO40tlmview decodes the binary telemetry transmitted by the AMSAT-OSCAR 40 satellite. It provides an ncurses-based (i.e., text-mode) interface for browsing through the telemetry blocks. The telemetry blocks can either be read from a file (e.g., downloaded from the telemetry archive), or received live through a TCP or UDP connection to a demodulator (see below). Furthermore, it can produce simple graphs of the telemetry, either through gnuplot if running in a graphical (X11) environment, or as a crude ASCII graph when running in a text environment.
Many aspects of the functionality of AO40tlmview have been inspired by Stacey Mills W4SM's telemetry program P3T for MS-Windows, as is probably clear from the screenshot: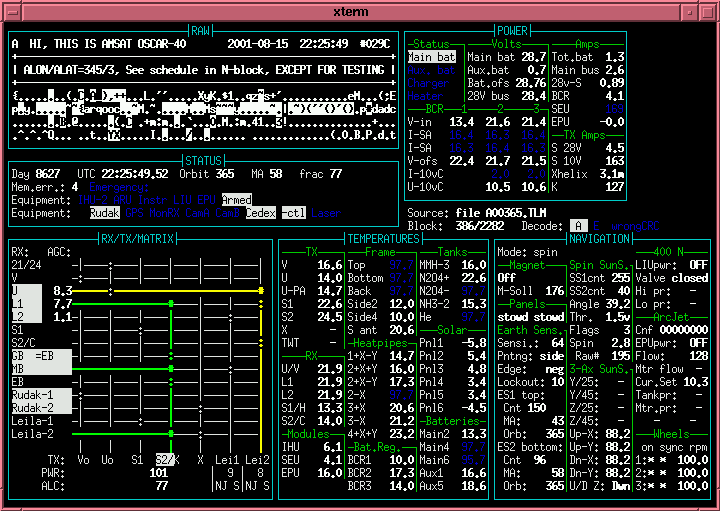 The current version is 1.04, released 2003-07-20. It can be downloaded (source code and documentation) here. The major changes since version 1.02 (2001-10-26) are the following:
upon startup, settings are read from files .ao40tlmviewrc in the current and the home directory.
name of log file can automatically contain '@callsign', as needed for submission to the telemetry archive; the callsign is specified in .ao40tlmviewrc .
the log file is now closed and a new file opened when passing midnight UTC.
graph of Whole Orbit Data.
If you want to decode telemetry that you receive directly from the satellite, you will also need something to demodulate the 400 bps audio signal into a stream of bits that ao40tlmview can display. There are three soundcard-based AO-40 demodulator programs available for Linux:
Tom Sailer HB9JNX's multi-platform demodulator p3dtelem.
I have made a patch for this demodulator to add support for streaming telemetry over TCP; it's available here. (Note: the TCP-portnumber is hard-coded as 2223 in this patch; you may want to change it before (re)compiling.)
Jens David DG1KJD's KDE-based demodulator KTelemetryDemod.
Phil Karn KA9Q's demodulator, which also handles the FEC blocks: data blocks with redundant information to help the demodulator decode blocks correctly even at very low signal-to-noise ratios or in the presence of (spin) fading. This demodulator and documentation about the FEC scheme are available here.
---