Sideband-asymmetry in the Luxembourg effect
Pieter-Tjerk de Boer, PA3FWM pa3fwm@amsat.org
The Luxembourg effect is the effect that a long/mediumwave radio signal propagating through the ionosphere can be influenced by another strong long/mediumwave transmitter. A more scientific name for it is "ionospheric cross-modulation".

Nowadays, one can easily hear the effect on 162 kHz AM via the Twente WebSDR, where one hears the modulation of RTL (234 kHz) and/or Europe1 (183 kHz) transferred to the unmodulated 162 kHz carrier from central France.
This effect was first discovered and explained in the 1930s, and studied further in the 1940s using test signals broadcast outside the radio transmitters' regular operating hours.
Using modern SDR techniques, I've been studying this effect in a way that wasn't possible in the 1940s: 24h per day, and for all modulation frequencies simultaneously.
In May 2016 I found that the phase of the sidebands is often asymmetric, After that, I did many more measurements both via my Twente receiver and using portable equipment while travelling through Europe. Together with DF6NM, who had already seen a case of amplitude asymmetry in January 2013, we came up with an explanation for these asymmetries.
This work is documented in a joint publication in the scientific journal Radio Science, which can be found at https://doi.org/10.1002/2017RS006525, published in May 2018.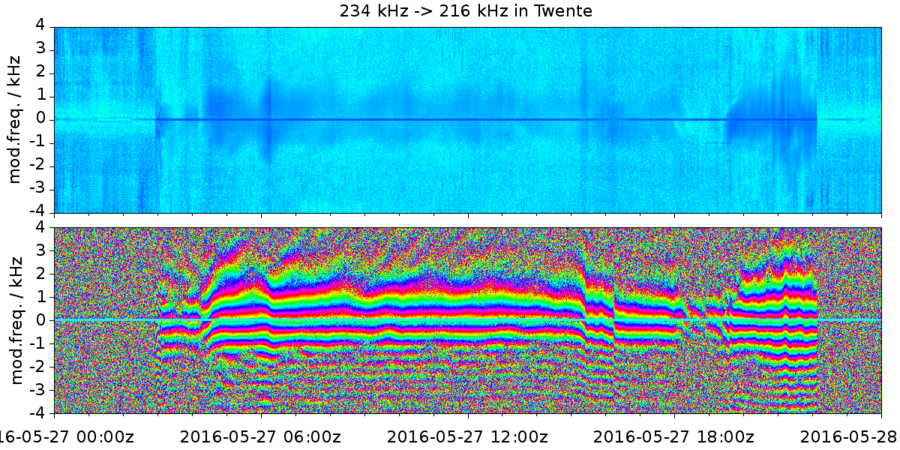 In future, I'll put a more amateur-friendly description of this work on this page.